Whether you are new to the game or have been lucky enough to have been playing for a while, at some point in your journey through Nexus you will acquire a home. Then you are going to want to fill it up with all the goodies you have found, crafted, bought, etc. The game already comes with an enormous amount of pre-made decor, with varying themes (i.e. gothic, mechanical, traditional) and you will likely find something to suit your tastes. From chairs to desks to statues to kitchenware, almost anything you can imagine, WildStar has......almost.
Some of us have taken up the fun hobby of what we call Custom-Built Decorations, in that we take existing items (not just building block decor) and put them together in such a way as to create something new and unique. From grand staircases to refrigerators to musical instruments, we have players continually stretching their imagination to add another dimension to the housing experience.
If you are someone looking for inspiration, this is the place for you. Browse the work of others, leave your comments/suggestions/requests.
If you too are an avid Custom-Builder, please feel free to share pictures of your unique creations with us. We'd love to see them!
I'll start the ball rolling with a few of my own: (update: added aquarium, pool table and refrigerator)

Easel with in-progress painting, brush and palette with paints: The easel itself is just wooden 2x4's. The canvas is a travel poster. The "painting" is made up from pillows, a plate and a window. The paints on the palette are just different colored bottles. The brush is simply a mop. XD The main difficulty I had was finding "painting" items that weren't so "thick" as to poke out the back of the "canvas". I still ended up having bits of things showing up where I didn't want them (you can see a faint outline of the window frame around the "flower", for example, but I think all in all, it turned out pretty decent. This kind of custom-built item might be useful for someone that wants to make an art studio or just wants a nice little extra for their basic home.

Train in yard, as seen from the front (and the side):This was just a quickly put together little (and very simple) project of mine, mostly because I was bored. The reason the track is incomplete is because I hit the item limit. XD Some of the items used for this include a chimney, cardboard boxes, grate shelving, windows, plates, etc. With there being plenty of mechanical items in-game, I'm very certain someone could come up with a much more realistic looking train than this, but if you don't mind the "kiddy" look, this might be something you could try.
Piano: a combination of wooden 2x4's mostly. Some striped pillows thrown in, just so, A few extra touches like the "sheet music" (which is just an open book), a bench and candles to set the mood and voila! If I attempt one of these again, I will try to do one with an open top and go "pro". XD
Aquarium: I don't know why but the first time I laid eyes on the Marauder Display decor item, all I saw was an aquarium, so I decided to set it up like one. Nearly every time I decorate a new house, I have to put one together, each being slightly different from the last. This particular one is basically just the display screen combines with various grasses and flowers, a rolled up bandit sleeping bag and a plushie Sunfish.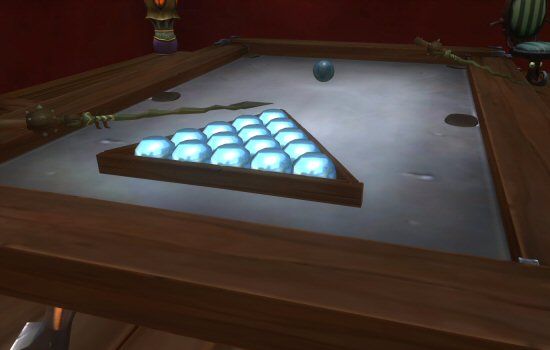 Pool Table (couple of shots): This was inspired by the one Nashor has in his bar-house. It is basically a table with metal-edged wood planks, phials (upside down) for the balls, the soccer ball decor for the cue ball, draken totems for the cue sticks and judge hats for the holes.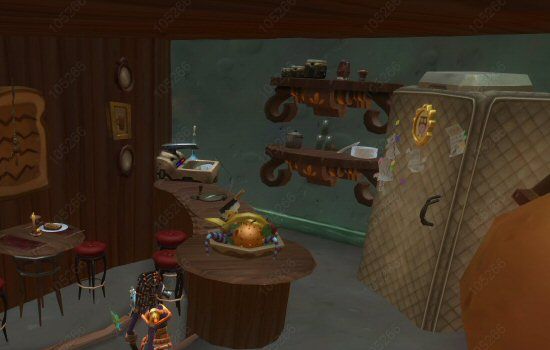 Old Refrigerator: This is obviously one of my earlier creations, watermarked and all, found while clearing out my screenshot clutter. XD I've seen way better fridges than this, more futuristic looking too, but well...I went "traditional".
Just some mattresses thrown together with I believe was an airtight container for the refrigeration unit on top and some paper scraps to decorate the front, along with a hanging wire for the handle to the door. (yes, that is a giant toast clock in the background there.
Always time for toast!)
Edited by Kaeret, 25 March 2014 - 11:20 AM.